Which was a better year for music, 2010 or 2011? Well 2010 had releases from a lot of my favourite bands; Frog Eyes, Wolf Parade, Woods, The Walkmen etc. It was also a very glossy year for hip-hop with the ever in production Big Boi album finally released and of course the masterpiece that is My Beautiful Dark Twisted Fantasy, there were some remarkable mix tapes too. There were some big surprises from bands I didn't particularly like who released wonderful albums like Congratulations by MGMT and Halcyon Digest by Deerhunter. The list goes on. 2010 was filled with solid gold, solid albums, beautiful and wonderful album, jamming albums, funky albums, dozens of truly brilliant albums for every feeling. 2010 was a year in music that I will love and there were a hell of a lot more than a handful of albums that I fell in love with. 2011… Not so much.
2011 was filled with releases from the mature kings and queens of rock, such as PJ Harvey, Bjork, Tom Waits and Lou Reed, among others. a lot of them were disappointments, but some showed who were still in charge. on the fresher end of 2011 there was a lot of hype this year. James Blake, Tyler, The Creator and Lana Del Rey all exploded by headlining festivals and appearing on television. If Del Rey wasn't uploading a self indulgent video on Youtube Tyler was sparking controversy and if he wasn't doing that James Blake was releasing a new EP. 
So everything in between the oldies and the young 'uns there hasn't been much to talk about, but the following 25 albums are the albums that got me chin wagging the most. The quality in music this year might not have been up to the standard of the past few years, but there are still some albums I will take away and hold close even 10 years from now. If you follow my blog you'll most likely know what the 'holy' album of the year title for me was. Nothing came close to fighting for my love than that album. But I hope you enjoy reading this and here's to looking forward to next year in music. There's already been some exciting stuff announced and I'm sure 2012 will be the year of the inevitable 2nd Avalanches album! Fingers crossed.
Some honourable mentions that didn't make the list: A-1 - After School Special, Active Child - You Are All I See, Africa Hitech - 93 Million Miles, Bill Callahan - Apocalypse and Clap Your Hands Say Yeah - Hysterical
25. YACHT - Shangri-La
As soon as I find out about a new YACHT release in the summer I thanked the heavens. I was relying on this being the one album of the summer that wasn't fucking chillwave, meaning I could listen to something I would actually enjoy. And I wasn't wrong; the luscious layers keep on giving and don't stop until the closing seconds of the album. Whether it's a cheerful piano melody, a ferocious guitar jam (courtesy of Bobby Birdman) or synchronising a synth and drum beat to create ultimate euphoria, something that they do best.
 Because their last album felt like such a reinvention of the band, I can't help but feel that Shangri-La is a sophomore slump. I couldn't be more unhappier that I feel that way as I wanted a triumphant album as strong as the last, which is what I thought I would get. Telling yourself you like an album is not a healthy thing, which is what I rediscover year in and year out, but so is sitting on the fence. This album is amazing and at the same time a misstep. This isn't a bad album in the slightest. It's brilliant. There are some really great songs that will stay with you, and Shangri-La is just simply better than not having a new YACHT album.
24. Beyonce - 4
Never in a million years would I have decided to listen to this would it not have been because of my girlfriend. My girlfriend is a huge Beyonce fan and when this leaked I decided to download this for her. Because I had it I thought, why not. And wow, this is a masterful piece of popular music. I had mindlessly lumped Beyonce in to the category of Lady GaGa's and Katy Perry's, which couldn't be further from the truth. Yes, ask me anything about some underground avant garde african tribe music and I'll give you the answer, ask me about any popstar with multiple number one hits and I'll be forever puzzled.
Beyonce co-produces all of her own stuff and always watches over the beatmaking. she's such a hard worker, too, making 72 songs for this album. I don't know how many of those songs were total shit but it doesn't matter because the songs on 4 are brilliant and incredibly touching. The lead and annoyingly catchy single, Run The World (Girls), barely even scrapes the surface of the great depth of this album.
23. David Lynch - Crazy Clown Time
This might not be the pinnacle album of 2011 like a lot of people (including myself) expected, but nobody can deny that it is definitely one of the most memorable. There might be unbelievably beautiful songs like "Good Day Today" and "I Might", but the absolutely mockable songs like "Strange And Unpredictable Thinking" are just as crucial as the good songs. Crazy Clown Town is full of the same spontaneous and ballsy stuff his movies are made from and if all of the songs were cut from the same cloth as the safe generic electronic songs that are on here it just wouldn't be Lynchian.
I'm not going to forget this album any time soon, it might not be for the best reasons and if it was anybody other than Lynch making this music I probably wouldn't give a single fuck, but having said that, I think Lynch doesn't give a single fuck if people don't like it. Obviously as it's in my favourite albums I do in fact admire this fantastic, horrific, intense, beautiful, grotesque piece of work
22. Handsome Furs - Sound Kapital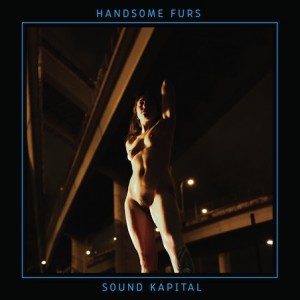 Only a few months ago when Wolf Parade, who in my eyes are Canadian superstars, announced a hiatus, which may or may never end, my heart broke. Some people thought their last release was just a combination of the frontmen's side projects, but really, isn't that what it always was? When Wolf parade first came together it was Dan Boeckner and Spencer Krug bringing forward their own distinct styles to create the Wolf Parade sound, and it's only natural that the sound will change as their own musical explorations develop. What I'm saying is, although Wolf Parade will be dearly missed for however long they'll be absent in the music scene for, we'll still have Boeckner's Handsome Furs and Krug's many, many side bands. But in this case, it's Boeckner's time to stand in the spotlight.
A solid album full of great songs and an atmosphere typical of Handsome Furs is what we have here. This album comes highlyrecommended and I haven't heard an album this satisfying and easy to listen to from a guitar/synth duo since Handsome Furs last album! People who were on the Sleigh Bells hype train last year should sink their teeth in to this. The Furs prove that in rock music, synths can still be game without sounding cheesy or coming off lacklustre, and can be rather fitting along with a crushing guitar jam and a meaty drum sequence.
21. JAY Z And Kanye West - Watch The Throne
What can I say, I was always going to love this.
In a post I wrote a while ago about Otis, I said it was a great song to tease with us because it doesn't really give us a hold of the sound of WTT. With that on record, neither does any of the other songs on this album! WTT is so sprawling and inconsistent. There's a heavy soul sound throughout, but calling this a soul album would be wrong, there's a fucking dubstep song on here!
A short documentary/making of Watch The Throne type video got posted earlier in the year but has since been taken down from most places. What I found most interesting about this documentary is the relationship between Kanye and Jay-Z, more specifically the way Ye acts around his mentor. We all know Jay has been Kanye's mentor for around 12, 13 years and here you can really tell that Kanye actually does have respect for somebody. It's just like everybody knows how Kanye acts, all like, "I don't give a fuck, fuck the president, I'm amazing, I'm not scared of nothing", well when Jay's around he's SO different. Kanye almost seems nervous and talks a little quiet when in the presence of Jay. Whenever Jay talks to him he's so quiet and listens to his mentor's every words. If Jay compliments something he does, we see Kanye full on blush, too. BUT, the most interesting thing I noticed was that whenever they both get asked a question by the interviewer Kanye looks straight at Jay for him to answer first. There's so much respect and this basically represents the album. This is the real Kanye.
 20. Cymbals Eat Guitars - Lenses Alien
Cymbals Eat Guitars are pretty much a 90s revival band that really wear their influences on their sleeve. Saying that, you could compare them to Yuck, a band that released their debut album earlier this year. I hated that Yuck album, it basically mashed every single great 90s psychedelic band together and the end result was a messy album with a terrible flow. The songs were so evidently similar to well known jams it basically sounded like they had stolen them. I thought Yuck's songs were awful, yet CEG have pretty much done the exact same thing, just with a more psychedelic math-rock spin on things, and it sounds amazing. I'm not just throwing that A word around. Lenses Alien, CEG's second album, really is that great.
WhenI first heard Lenses Alien it was love at first listen. It's a fine approachable but mischievous sophomore effort that I admire very much. I  can tell that this doesn't even show half the talent the band has and that they're gonna get better and better with each record. I wish there were more bands like this. I'm on the edge of my seat waiting for the next record already.
19. The Field - Looping State of Mind
The title of the new Field album couldn't be more perfect. Never has a Field album felt more comfortable in what it was achieving. Once you've heard the first 10 seconds of a song, you know you're gonna get the same thing for the next eight minutes, and you'll feel so satisfied. Listening to the music you get wired in to this hypnotic mind set; it's a weird feeling that's hard to describe but the use of repetitiveness is so great because you can't turn it off no matter how same-y you might think it is. It's almost like an addiction.
What I love most about Looping State is the pacing, it never stops. It just, it just goes! The album feels like a man eager to win a cross country race and he is just going. Thinking about this and the whole repetitiveness, The Field just doesn't give a fuck about any unwritten music rules. His music is so unconventional but so addictive! Argh, Axel Willner is just a genius.
18. Beastie Boys - Hot Sauce Committee Part II
Just think of all of the great moments throughout all of the best Beastie albums. The beats, the production, the pop culture references wrapped in oddly head warping verses, playful instrumentals and when each Beastie Boy starts where one ends at the perfect moment with the perfect verse it is orgasmic. Almost. Well combine all of those moments into a stretch of sixteen new tracks with fresh new beats and hyperactive egos at an all time high after an unfortunate cancer scare which makes for the best return to form album in years and years.
The album doesn't stop to breath, straight in with Make Some Noise, the song seems like a sequel to Fight For Your Right (To Party). And straight away you hear their ability to spit funny, goofy, slightly offensive and just plain slick oddball verses. Referencing the one and only Curb Your Enthusiasm, "Open up a restaurant with Ted Danson", it was then that I knew the Beasties were back.  Hearing a fresh new Beastie Boys album makes me want to find my old skateboard and buy a boombox. I was too young to intake the culture beasties undoubtedly created, but who says the era has been and gone? Not the Beastie Boys.

They are still the kings of white boy rap. And by that I mean they are the only white boys in the whole world that can actually rap. They are making music they way they always have. I think if they had all the technology at their hands twenty years ago that they do today they would have made this album then. The boys haven't changed, I'm happy to say that.
17. Dirty Beaches - Badlands
All I had to read to make me want to check  Dirty Beaches out was that main man Alex Zhang was inspired by David Lynch. The download had finished before I finished reading the sentence. I was instantly sold. Maybe I biast because I was a little taken by his influences but I instantly fell in love with Zhang's music.
The David Lynch influence is no joke, either. It is like Twin Peaks has been transcribed on to music! I love how, for me, the music feels very cold and although the lyricism evidently involves some deep themes, it is very hard to feel empathy for Zhang. I hope this is purposeful. I was misunderstood too because there were a lot of people who didn't feel the same way. I don't want to be one of those arseholes and say it was because they didn't 'get' it, but.. they DIDN'T get it! Yes, the music is very low fidelity and maybe it is a little off putting and hard to listen to at first, but the music is truly beautiful and at the same time haunting and fearful.
16. Blood Orange - Coastal Grooves
First and foremost, I love this album. I wasn't expecting to ever absorb an album like this by Dev Hynes. If you don't know Dev Hynes also goes under the moniker of Lightspeed Champion and used to be in Test Icicles, both of which I fucking hate to death. Before the Blood Orange project began I considered him to be one of the worst musicians in recent years.
The thing I hate the most though is that he's such a poser and conforms to what he thinks listeners will find cool. Like he seems to find his look more important than the music to sell himself. And Blood Orange really isn't that different. It's probably the worst for doing that, in fact. Dev dresses in 80s New York attire and although admittedly I think that does in fact look cool, he's trying wayyyy too hard. But the music's really fucking good.
I have to take my hat off to Hynes for this album, I don't care about his fucking wardrobe and how many times he re-invents himself, but when he creates this wonderful chilled musical portrait of a close to fictional New York he'd love to live in after making some of the worst music I've ever heard, I'm willing to forgive and forget. This really is worth a listen, Hynes has delivered the goods here.
15. Girls - Father, Son, Holy Ghost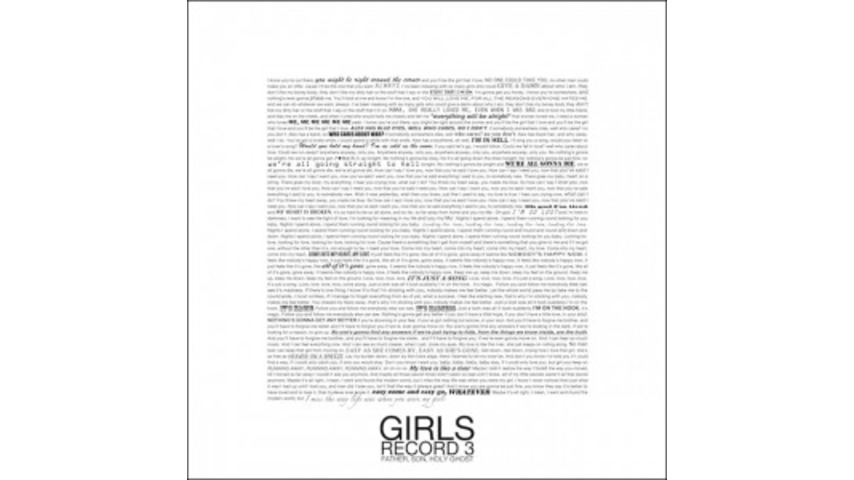 Girls, the prime culprits for making self indulgent "feel sorry for me" music knock one out of the park again. The third time around it's even more affectionate than ever. Christopher Owens has a lot to moan about. It's hard to tell him to shut up when you hear what he's been through. The songs on this record feel like old hits you've gone up with your whole life, or at least you should have.
Although they've vastly expanded their sound from their debut album, what with using a choir and all sorts of extra production values, it's a notch down from their EP, which was produced so much you could see it glistening from the moon, but that isn't a bad thing. Holy Ghost sees the return of the much loved reverb and dirty electric guitars, and every single twang excites me.
14. Kate Bush - 50 Words For Snow
What is not to love about this album? A concept about a relationship with a snowman and a spoken word part from Stephen Fry might be the strap line to reel people in but this album has so much more going for it than that. Yes, those two things are amazing but the music is just so delicate and beautiful. I'm not too familiar with Kate bush's work, I only know about her most popular work and I've only listened to a couple of her previous albums. Now, I wasn't so naive as to expect an album of "Running Up That hill", but I genuinely didn't know what I was about to hear before listening to this. What a wonderful album! So luscious and wintery all at once. It's the perfect album to listen to at night and for now has replaced Chromatics' "Night Drive". Kate bush is a genius and even if you don't like the music personally, it's hard not to admire the woman's musicianship.
13. Cut/Copy - Zonoscope
I've never been that in to Cut/Copy. I love a couple of their singles but that's all I thought they were good for, solid funky one off dance hits, but Zonoscope really did beat the shit out of my ears with pure gold for thinking that. I was so wrong and the band hit a hom run with this album. To any aspiring producers anywhere, listen to this album. This is how you make a dance album. there are more hooks on this album than there are on a pirate ship. Sorry.
Although, this album shows the band are improving massively as musicians, Cut/Copy are a band that are not advancing. They are doing what they've always been doing but they're just getting better at it, they're learning more tricks. Also, let's just admire that album artwork for a while, shall we…
12. Akron/Family - S/T II: The Cosmic Birth And Journey of Shinju TNT
Akron Family's sixth album is named Akron Family II. They haven't explained why but in my eyes it must be because the music on this album is so similar to their self-titled debut. But one distinct difference to their debut album is that it's so varied. I don't think that when they released their debut album six years ago they couldn't manage or even imagine pulling off some of the stuff that goes down here. And without beating around the bush, I think this is their best album. What's even more impressive is how they pulled it off with the absence of main player, Ryan Vanderhoof.
The album has great pacing. The slow melodic tracks and the loud synthetic sounds are beautifully placed. It feels like a fresh start but with the same old tricks. The album progresses naturally and with fluidity instead of the feeling that the band are forcing these jams out and scraping the barrel that once was filled with their creativity. I can also hear a big Pink Floyd influence in the loud and fine-tuned guitar solos too. And there are the mellow and acoustic songs that really remind me of S/T that I really love. I'm glad they've made a return and as they did on the S/T, they sound so natural and fit in so well here.
S/T II: The Cosmic Birth and Journey of Shinju TNT does sound like the sound track to the eruption of a volcano. It's so effective. Looking at the album in the perspective of the band's progression, I would say if you've never 'understood' or 'got' their music, this album sums up everything they've ever done, whether or not they succeeded or failed the first time. Not only that but it adds new concepts and things they've never tried before that they'll no doubt develop in the future. This is Akron/Family.
11. St. Vincent - Strange Mercy
I fucking love her debut so much though and this album would have been the perfect sophomore album to Marry Me. Man, I'm so so happy. It doesn't make me Z like Actor does. The thing I noticed most about Strange Mercy is that the lyrics are so much more heard hitting. Hell knows what those metaphores and Arrested Development inspired jokes on Marry Me were about and I don't care about Actor, this lyricism though, this lyricism makes you think. So much experimental shit going on here too. Especially love this because the sound on this album takes the form of how 60s girl groups sound. And when the end of each song explodes into a blast of fuzzy experimental shit that's when an explosion goes on in my pants! Such a great album!!!
10. Fleet Foxes - Helplessness Blues
Helplessness Blues reminds me of the cover of the Curb Your Enthusiasm season 2 boxset; the cover displays a long shot of Larry David sitting on an office chair in the corner of a spacious clean white room. Larry's head is resting on his fist and he looks monotonous. The cover of the season prior to this one shows the same picture only cropped to show only Larry's head resting on his fist. What I'm trying to say is that Fleet Foxes' self-titled effort was filled with these snippets of beautiful melodies and now with their sophomore effort we see the bigger picture we had no idea about. The music style is the same, only there's so much more to love.
The Foxes' sophomore album was supposed to come out only a year after the debut was released, that was the plan anyway. But Pecknold wasn't happy with the outcome and refused to let that music be released, so then they got to work on Helplessness Blues. So essentially, they've skipped past their sophomore slump and went straight to the return to form sounding third album. But Robin Pecknold apparently wanted to throw Blues away and start from square one too, the only thing that stopped him was the band putting their foot down. Whether you want to call this album their second or their third effort, it's neither a slump nor a return to form; it's just a solid improvement after the great self-titled LP with a development of maturity that feels natural.
Robin Pecknold and his gang of merry foxes are yet to be plagued with a bad note. After the release of this album we can only hope that they don't take as long to create another well polished, close to flawless album. As for the second album that we never heard, I doubt we ever will. That doesn't really matter now that we have something to hold on to. Helplessness blues is an anthemic hippy rock album that is truly a work of art. Even if Pecknold thinks so or not.
9. Tom Waits - Bad As Me
Manoman. has Tom Waits ever fucked up? Bad As Me is so good. The stuff on here can be traced all the way back to his stuff on Rain Dogs. It all sounds so different and pulled from various eras of his career. Saying that though, the album still contains it's own sound. All these songs that sound suspiciously familiar are all wrapped in this warm kind of production with all the brass and horn instruments. I can't see any long time Waits fans being disappointed by this, I wasn't. Hopefully when I'm in town today I'll pick up the record. It's so gritty in the sexiest way possible. That's just the simplest way I can describe it.
Bad As Me is full of great songwriting and a wonderful and glamorous but disgustingly dirty production. It's a great craft that Tom Waits has and he can juxtapose any concept with any production style and I would think he was genius, I just wish he wouldn't leave it so long before he releases albums.
8. Ponytail - Do Whatever You Want All The Time
WOWOWOW. There's no way this wasn't gonna be high up. This is probably the simplest album of 2011 yet so few artists could pull this off. Do Whatever You Want All The Time is unique and incredibly fearless with it's style. The music is kind of childish in terms of it's simplicity and that it isn't trying to please anybody, it's just doing exactly what the title suggests, something that a child would do, too.
Unfortunately, the band broke up earlier this year. I loved this record and thought the last one was great. I can only imagine that they are astonishing live adding further dimension to their colourful and erratic music. Though they have broken up, they ended things on a high note - they released this album and made the best music videos of 2011, which only added to the beauty of their music. They had one of the most unique sounds on the entire planet and coupled greatly with any Deerhoof album. Now they have disbanded, I'm putting my money on that there isn't going to be anything even slightly similar to this style in the near to distant future.
7. The Rapture - In The Grace of Your Love
The Rapture invented their very own genre with their breakthrough album, Echoes. After that they released quite a mediocre album that slipped many people's radar. fiver years later what do they do? Make the pest fucking comeback ever, that's what. In The Grace of your love might be the exact opposite of Echoes, wearing dozens of influences on a multicoloured sleeve, but that's what I love. It might be what I criticised label sharers LCD Soundsystem for and this year YACHT, but The Rapture makes it fresh and it feels exciting every time I play "Sail Away".
What I love so much about this album is that I feel the exact same way about it as I did when I first heard it. I remember staying up until 1am to hear the live record stream of the album and it was so exciting and every time I play the album I feel that same excitement all over again. This album was a long time coming and it felt even longer than it actually was because I wanted it so long. Here's to hoping their next one won't take so long.
6. The Mountain Goats - All Eternals Deck
John Darnielle has not only had a long running career with a mountain of releases under a gigantic sized belt, but he's for a long time been one of my all-time favourite song-writers ever since I first heard The Mountain Goats, granted that hasn't been anywhere close to the length this project has been running for. Darnielle is now 44 years of age, which to a person in the first year of university, is kind of old. And it wouldn't be far out to imagine one of my friends asking me why I'd listen to this. One of the reasons I love this outfit so much is because it's always sonically expanding, and family man Darnielle doesn't have to trade in his acoustic guitar for a synthesiser to do that.
Of course, as always there are new implements to the beautiful song structures that are original to the band. One which stood out the most is one I would never have guessed and a technique you'd never really consider. And that's why it sounds so damn good each time the album comes around to that song; "High Hawk Season" is an acoustic gem just like any other bedazzling Mountain Goats song, only with barbershop backing vocals. It makes this song so perfect, it's an obvious stand out on the album for this one simple technique and that's what I'm trying to point out when I make any negative remark about synthesisers, which is that the answer to the evolution of music isn't always to turn to technology. A couple of men's deep polyphonic backing vocals is all the technology I need.
As for his vocal delivery, again, on top form! He sounds just the same as he did on Zopilote Machine, which was 17 years ago. His voice doesn't crackle when he yells, which is often, and it's far from cringe worthy when he changes tone, which is frequently. All this just proves my point when I say that The Mountain Goats have one of the greatest back catalogues in music history. In recent years, when they're middle aged or have been raising their kids or whatever they've been doing, there hasn't been anything weighing them down and Darnielle must look after himself when his voice genuinely sounds just as great as ever.

5. Deerhoof - Deerhoof vs Evil
Deerhoof haven't ever released an accessible album, at least not in my eyes. The band have one very distinctive sound that ranges between loud aggressive arrangements with Satomi Matsuzaki screaming at the top of her lungs that can be at times irritating and flamboyant pop that still supported by the scaffolding of experimental noise rock. Although their discography dates all the way back to the mid-90s, I think the albums that present these frameworks of sound best are 2007's Friend Opportunity, which lit their more pop characteristics brightly and pretty much discarded anything irritating listeners might have found with them before, and 2008's Offend Maggie featured their most hard to listen to songs yet. Although I don't think these are the best albums, they do include the most Deerhoof type songs. 'vs. Evil', their first album since then, displays a completely new side to Deerhoof that is compelling, emotional, pleasant and very surprising.
's something very creepy in the innocence of I Did Crimes For You; the way it toys with child friendly rhythms but the lyrics suggest something truly immoral is just scary. Hey I Can reminds me much of High Places with the playful electronic opening that sounds like music made from water. And then there's the spooky C'Moon. Hell knows what she's singing about, but whatever it is doesn't stop it from sounding like sounding like a toddler's television show from the perspective of a child on acid. If I was to give my insight into all 12 songs on this album, we'd be here for an awfully long time. But what I think is the most interesting thing about the album is the one, two punch of No One Asked To Dance followed by Let's Dance The Jet. The former is a very slow and fragile piano based track that's quiet and far from Deerhoof's bravura. The latter is a very short energetic song that could soundtrack the eruption of a volcano. It's a burst of energy that the rest of the album has an absence of. No One Asked To Dance is like the calm before the storm.
vs Evil is a wonderful and energetic album full of gems. It's childish in the most mature way possible and is so powerful in terms of how it makes you feel. There is no other album this year that manages to make you feel how it does without even barely taking itself seriously. This album will change your life and neither of you ill even realise it.
4. Sandro Perri - Impossible Spaces
It actually wasn't long ago since I heard this wonderful album for the very first time. It came out of nowhere but now it's here, it's here to stay and it won't be going anywhere soon. This album embraces the spaces it breathes in, it feels comfortable and that's exactly why 10 minute songs like Wolfman breeze by like they are only 2 minutes. This whole album is so pleasing I can't count the amount of times I've recommended it such a small space of time. I challenge anybody to sit down, block out the world and really listen to this while staring at the artwork and letting your mind wander. Something about you will be different.
It's not often that music like this is utilised and pulled off so well like it is here. Usually this style is flimsy and hard to keep a song so fresh and unique. When I'm not listening to Impossible Spaces I'm thinking about it. I don't know what impossible space the album title is suggesting but no other artist this year has found it easier than Sandro Perri to occupy the space between my ears. It's amazing thinking that not one month ago I had no idea who Sandro Perri was.
3. Battles - Gloss Drop
Ever since their debut, Mirrored, Battles have lost the energy and the technical capability of Tyondai Braxton as he pursued solo projects and released a rather brilliant debut album, just as he did with battles. And from what I've read the band have re-started the making of Gloss Drop several times. It didn't sound very promising, but all is not lost as the tight as a drum production and the intricate guitar interplay and all of the sequencing builds and builds as if they're competing with each other. It's just Battles' style. And there's no getting rid of that forever intense atmosphere. That's always been here to stay.
There is no anthem like the stupendously repetitive loops of the amazing Atlas, but the album is consistently great and like that sacred song, Gloss Drop is filled with repetitive loops and sequencing but still after close to six minutes, songs still come off too short. Because of the repetitive outcome of the album any song could have been any length; the one minute Dominican Fade filled with clapping and drums could have easily been a casual seven minutes and the six minute White Electric could have just as easily been a short snippet of off-kilter bleeps and bloops. It feels like it comes naturally to them as they jam away in their own zany and otherworldly little bubble, or as the cover of Mirrored shows, a glass box, which is very fitting.
They didn't need to include guest vocals to keep the album from sounding like another long-winded progressive instrumental album, which is my guess as to why they did it. Gloss Drop is a fresh new take on their style and have redefined their own genre, picking up where they left off with Mirrored. The album is a very worthy sequel that only dips in quality when the band hand it over to one of the guest singers to do their thing. They are so on top of their game that others know there's no point even contending anymore. It's like Battles, Holy Fuck, Boredoms and Lightning Bolt are all playing monopoly and Battles own hotels on every street of the board.
2. Destroyer - Kaputt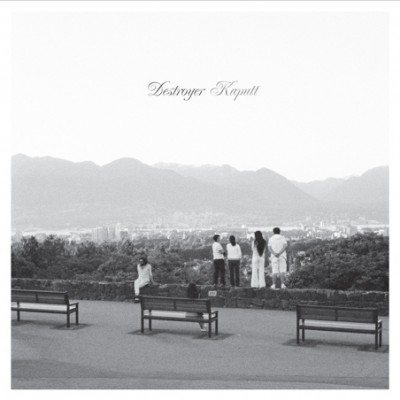 Destroyer's music has often changed throughout its decade spanning lifetime; folk, dream pop, rock & roll, the list is endless. But it wasn't until last year when he revealed his new musical adventure with electronic synths and a sexy saxophone on top of the band. Everybody knows I love the sexy sax. The 14 minute song Bay of Pigs was released as a rare 12". I thought it was beautifully executed and I felt I had to savour every second because I knew this would be a one off. This was fair because Destroyer going Disco is very hard to believe. I thought Bejar would never return to this sound again, let alone a whole album of it. Oh how I was wrong…
Each Destroyer album has been relatively similar in sound. It has always been Bejar's voice and poetic verses that's been the primary topic to comment on. But with Kaputt, his voice, for once, takes the backseat. There's nothing quite like Kaputt in Bejar's back catalogue nor is there anything that can compare. Not even 'Rubies'. Where the latter album, as well as all of his other albums for that matter, had six to nine minute songs with Bejar reeling off metaphor after metaphor with music serving as only a bridge to the next simile, Kaputt is drenched in beautiful melodies. I don't see this as a Destroyer album, it feels way too different. But that's a good thing. There's female backing vocals, different moods, different influences, the aforementioned saxophone and synthesisers. It's such a night album. And in that way, it reminds me much of Chromatics' 2007 album, Night Drive. The only thing missing from Kaputt is a Kate Bush cover. The spoken word type style against the chilled out backdrop of the music even reminded me of Serge Gainsbourg, whom I love.
But yes, Bejar's graceful verses are still there, some of his best too. In Suicide Demo For Kara Walker, probably the most spacious and atmospheric on the album, he doesn't put his voice on the front line, but when the vocals come in, the lyrics will stay with you for days. The way he twists the words to fit his style is so unique. I've noticed on this album, and it's a big part as to why Bejar is one of my favourite musicians at the moment, is that with his poetry it seems he emphasises the words that don't matter, and only mutters the ones that are emotional. He doesn't do this for the whole of the album, it's just one of many wonderful techniques.
Kaputt is a landmark for Bejar and his band. It's an album any musician would be proud to have in their discography. As well as having a similar mood it did exactly what Beach House's magnificent Teen Dream did at the beginning of 2010 and immediately set the high standard of this year's music. If this is the mind-set Bejar will be working in from now on, I am highly looking forward to future releases…
1. Gang Gang Dance - Eye Contact
In 2008, around the time of the release of Saint Dymphna, I was supposed to see Gang Gang Dance live. Only one week before the big exciting night I was informed that the tour had cancelled because the venue they played the night before had burnt down and it just so happened that they had stored their equipment there over-night. The fire had burnt their shit to a crisp. At the time this was the worst news ever. Saint Dymphna had just been released and it was my favourite record at the time. But it really shouldn't have been a surprise that the incident happened to Gang Gang dance of all bands, as they are prone to bad luck. In 2002, then vocalist Nathan Maddox died from being struck by lightning, in July 2008, drummer Tim DeWitt got shot in a bar (thankfully he was okay after a few months), in 2009, Jesse Lee was beaten to a pulp by two out of line security guards screaming "we are going to show you what real pain is!" and last year Florence fucking Welch stole the band's music. Cunt. But now, I think 2011 is the year their luck changed.
With the new album I think for sure that the band will finally blow up in an animal collective way, but hey, that's what I thought was going to happen three years ago. Eye Contact is the perfect follow up to Saint Dymphna. There are sounds on Eye Contact that remind of certain aspects of Dymphna. I remember the last half of Innerspace from Dymphna specifically, the one that sounded like one of the in game Crash Bandicoot tracks (I'm not saying that in a negative light), there's that kind of sound in Eye Contact but combined with many other implements it sounds fresh and unique all over again. What I mean is, where Saint Dymphna felt raw, Eye Contact has all sorts of different sounds coming from every angle all compact into a five minute song. Kind of if you mashed five different tracks from Dymphna together, but it doesn't come off sounding over-produced.
It's got to the point where I've listened to this album so much that I've started trying to hold back so I don't get bored of it. And I'm finding it very, very difficult. It's the best Gang Gang Dance to date despite its lack of various combined genres that the others may have had. This is the best album I've heard in years and years. It's too early to say but in a few years there's a good chance I'll be looking back on this album as perfect.
A few months back, my three year wait to see them live ended, when I watched them perform an incredible and life changing hour and a half long set, I also managed to meet with them and chill with them after the gig too! It was so fun and they were all amazing people. In a couple of years I doubt they'll remember me (I doubt they even remember me now), but I'll never forgot the affect this album has on me.